Astronaut Floating In Space Mouse Pad
Mouse Pads, also known as computer pads, are made out of Fabric, Plastic, Vinyl or Synthetic Fibers we've all heard of, but what about Leatherette Mouse pads made from genuine leather?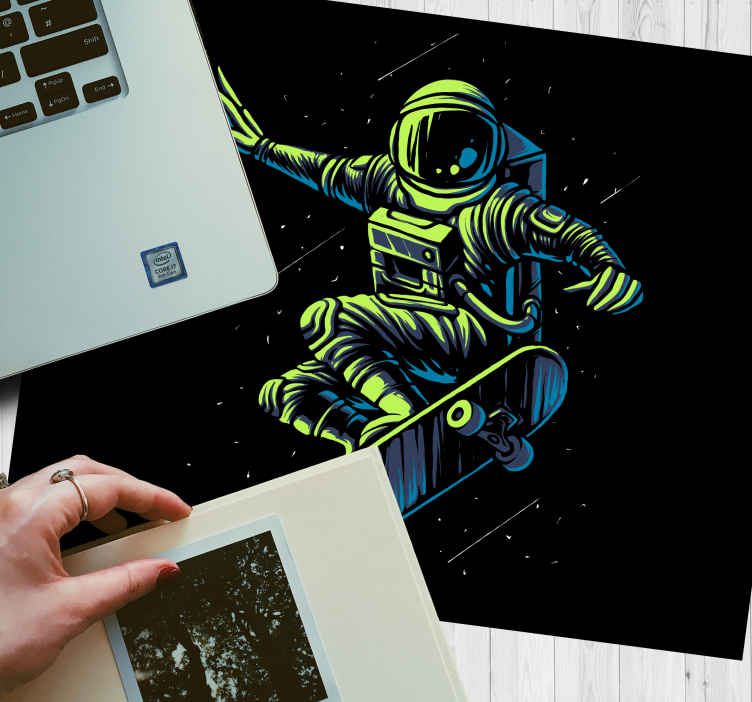 This classy and sophisticated computer pad is becoming a popular item among the design conscious and design savvy crowd who want to make sure their office desk is not just an area that should go unnoticed. Do you have clients or business prospects that have a great looking office? Did you ever stop to look at their mouse pad?
Here are the main features of Astronaut Floating In Space Mouse Pad
Features
Plays smooth and stays in a firm position, much like the mouse pad.

Microweave polyester surface to ensure the most precise mouse control

Anti-slip natural rubber base

Anti-fray edges and a tough surface to ensure the best durability

Supports laser and optical mice

Surface: 9.5 inch x 8 inch / 24.1cm x 20.3cm

Thickness: 0.1 inch / 3mm

Spot-clean with a damp cloth
Leatherette Mouse Pads Add Flair to the Office
What's great about leatherette computer pads is that not only are they classy, but as an excellent gift to the business executive, they make a coordinated match to an existing office decorating style or type of furniture.
Mouse pads are currently seeing a strong revival in the Promotional Marketing area and are again become an important give away part of the Marketing portfolio.
Mouse pads had for long been considered a tired item that every customer has on their desk, and quite bluntly – just how interesting could a computer pad get? But here's a secret: Most people get their mouse pad for free when they get a new computer, and never really do any research about what could be the right computer pad for their particular needs.
Most people never even knew that a mouse pad made out genuine leather, with that authentic leather smell, existed out there – or that they could come customized with a logo or snappy picture, or a built in calculator.
The new style Leatherette computer pads come with a protective wrist guard which has become a necessity for anyone working long hours in front of the computer – and if you have clients in the computer, design or customer service field, you know that they spend hours in front of the screen and their hand cupped over a mouse.